Who has the Q?
AO: The Norseman

When: 03/05/2019
QIC: Ha-ha and Callahan
PAX (2): Ha-ha, Callahan
Preamble:
It was a cold morning. Especially after the warm days we have had recently. 24 degrees and 8 mph winds kicked up. As I descended the stairs in my humble abode I noticed it was colder than it should be. Time to relight the pilot light in the furnace. After arriving right on the dot at AO Norseman, I needed someone to relight my pilot light but, alas, no one was prepared. You see, we have had the great fortune of having multiple guest Qs recently and they ran out and no one noticed… until now, in the parking lot at 0531, with Callahan and I looking at each other waiting on instruction. So, a Q on the run since we both were quite cold at this point.
Warm-O-Rama:
Not really. We just started running.
The Thang:
We headed out the main road north and stopped at every speed bump for 10 merkins. We we reached the northern border we turned and headed for the parking lot of field 8, 10 squats for the field. Ran back out to the main road (merkins at the speed bumps continue) and turned in to the parking at field 6 and 7. A stop at field 7 for 10 squats, then field 6 for 10 squats. We ran back through the wooded parking and did 10 merkins with right side up on a log then turned and did 10 merkins with our left side up on the log. Back out through 6/7 parking to main road, stopping for merkins at speed bumps, we made out way to fields 1, 2, 3 and 4. Squats x10 at all 4 fields. A trip to the play ground got us 10 pull ups. Over to turf field #2 for a trip around the field with 4 corners: 10 merkins, 10 burpees, 10 – 2 count lunges and 20 dips. Back across the street to the miracle league field for 10 squats, then step ups 10 each leg and 20 dips. On the way out 10 squats at field 5. Ran to turf field #1 for 4 corners with 10 merkins toll at the 50 (both ways) 10 American Hammers, 10 derkins, 10 Bonnie Blairs and 10 LBCs. On the way out we stopped for 10 pull ups on the stadium bleachers. With a few minutes left we ran to the Cogburn road entrance with stops for merkins at the speed bumps then returned to the flag.
150 merkins, 90 squats along with other exercises to get 2 guys their Daily Red Pill.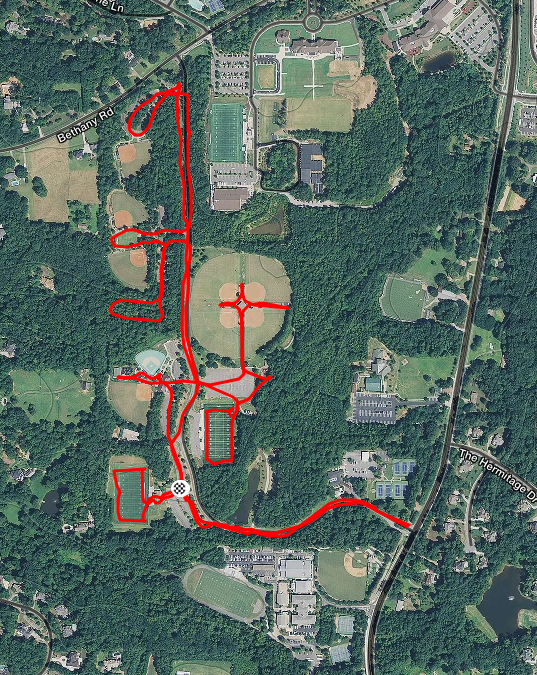 COT:
Safe travels for Nacho and his M
Thankful for guys who will meet you at a crazy hour to work out in the cold!
Naked-Man Moleskin:
Never without a Q.
From Jocko's book "Extreme Ownership": What do you do if your leader is ineffective? You lead. If your leader refuses to step up and lead? You lead. We are never without a leader. Sometime the leader is ourselves.
What do you do with no Q? You Q.