It was a cold and windy morning in the gloom, which prompted many a-fartsack as 13 intrepid PAX joined YHC for a Wednesday beatdown at the Kodiak. Sticking stubbornly to YHC's theme of each workout being based on hip-hop artists, today was Run the Jewels day. A hip-hop supergroup made up of Killer Mike and El-P, Run the Jewels just recently landed on the worldwide scene with their contributions to the Black Panther soundtrack, but RTJ has been doing it for years.
In the end, the real jewels we discovered were the friends we made along the way.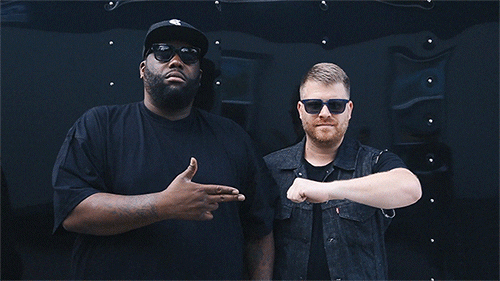 Warm-O-Rama
20 SSH
10 Dancing Bears
10 Windmills
Sungods
The Thang
PAX split into two groups to honor Killer Mike and El-P with Burpees and run the jewels. Start with Run the Jewels: 10 burpees followed by running up and down the stadiums. At the other end of the track, we did 10 Burpees then ran the other stadium. We finished with some planking waiting on the six. Then we did Run the Jewels 2: 20 burpees at both stations. Planking in between. Then Run the Jewels 3: 30 burpees at each station and running the stadiums. There was some mary while waiting on the six, and many of the PAX wondering if RTJ had released Run the Jewels 4 (they haven't…but I can't wait!). Total burpees, 120. Total times we went up the stadiums: 12.
Next we partnered up and alternated with 3 rounds of Balls to the Wall and 20 monkey humpers.
Back to the flag for 30 Big Boi situps, 20 Crunchy Frogs, and 15 Mountain Climbers.
Name-O-Rama 
COT
YHC asked for prayers for my youngest, who is having her tonsils out on Friday.
Moleskin
All the races and F3dad things. Sign up soon for the day at the Park.
No coffeteria with the absence of our baristas, too cold to be outside anyway!